Join our Team!
Spanish speaking counselors encouraged to apply.
There are volunteer and paid positions.
Volunteers: Earn community service hours in your first year working with our team.
Paid positions: Priority given to returning counselors who are juniors and seniors able to commit to 3 weeks.
Paid counselors must have a social security number or tax ID number, show proof of ID, and complete district paperwork. Paid counselors under 16 years must complete paperwork from school guidance counselor.

---

​​The summer youth employment counselor program is supported in part by a grant from the Westchester Community Foundation, a division of The New York Community Trust.
---
20 paid and 25 volunteer positions.We received 108 Counselor applicants in 2017!Application Period: CLOSED
MAIL: Alison Paul, Camp Director, 2 Manor Close; Sleepy Hollow, 10591
OR
email:
tarrytownartscamp@gmail.com
OR Online, below.
Returning Multi Arts Camp Counselors may contact
Cathy Chulla directly
but also please complete online application so we can keep track of all applicants.
THANK YOU.
I will process applications and set up interviews for new counselors IN MAY.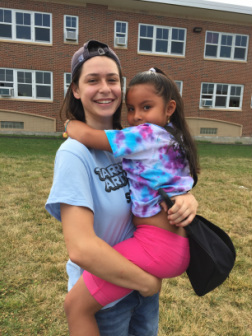 Multi Arts Camp
Mondays –FRIDAYS Counselor Hours: 8:45am-12pm
July 10-14, July 17-21 and July 24-28. Location: SHHS


NEW: Each group will have one counselor who will write up what their group did each day. We will post summaries for parents. Please indicate if you are interested in being your group's "reporter."

Responsibilities:
Multi Arts Counselors: Greet campers each morning, distribute name tags, and help each child feel welcome. Escort campers to daily activities, and supervise snack. Counselors support end-of-week activities, such as Crazy Hat Day, Tie Dye Day, etc.
Report to Site Coordinator Cathy Chulla.
Activities led by music, theater, movement & visual arts educators.
Latin Music Camp - until 2:30pm for campers grades 2-4.
Counselors will supervise lunch after Multi Arts Camp and assist with afternoon activities and manage dismissal.

---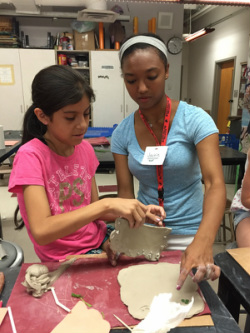 CLAY & ARCHITECTURE CAMPS
Monday–Fridays. Hours: 9-2:30pm. at SHHS
CLAY CAMP: July 10-14; July 17-21
ARCHITECTURE: July 24-28

Responsibilities:
Assist campers as they create projects under direction of instructors. Sign campers in and out. Supervise campers in the building, and during lunch.
Help make the camp fun!






---
Open Call Drama Camp
Monday-Friday 9-2:30pm at Washington Irving School
Two counselors needed to assist during theater camp. Previous experience with Peter Royston or theater a plus.
Deadline May 1. Mail paper applications to
Alison Paul, Camp Director, 2 Manor Close; Sleepy Hollow, 10591
OR
email:
tarrytownartscamp@gmail.com
. Returning Multi Arts campers may
return form to Cathy Chulla