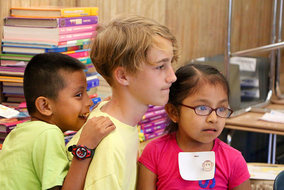 "Thanks so much for giving my daughter a scholarship. I really appreciate it, it means a lot and I'm very thankful for you giving my daughter the opportunity."
- Parent of scholarship recipient

In 2016, we awarded a record 82 scholarships - 12 more than in 2015! And yet we still turned children away. We gave:
43 scholarships to Multi Arts Camp
17 scholarships to Clay Camp,
18 scholarships to Architecture Camp, and
4 scholarships to Open Call Drama Camp.

If everyone who registers for camp contributes just $25, more kids will be singing, laughing, learning Flamenco and African drumming, socializing, bonding with their counselors and expanding their horizons over the summer.

YOU can help a child who lives nearby participate in enrichment and growth opportunities this year.

Your donation is fully tax deductible.
Your gift will stimulate creativity while bringing many smiles to many children. Thank you.


---